Be creative and colorful in expressing yourself! Bodypainting, bike decorating, kustom themes, and other creative expression is strongly encouraged!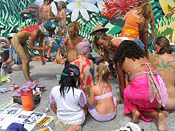 Golden Bay riders throw a bodypainting party before their Feb. 2005 ride.
What to wear? Do not fear! The World Naked Bike Ride dress code is "Bare As You Dare"... How bare is that ? How dare is that ?...Its all up to you, you decide what you are comfortable with. No one is exluded or discriminated against based on levels of clothing, bodypaint, or anything else, for that matter!
Find out more about planning your bodypainting party