World Naked Bike Ride (WNBR) - Passeio Mundial dos Ciclistas Sem Roupa - Domingo, 12 de junho de 2004 - Pedalando Pelados pelo Mundo!
Melhor de tudo é que VOCÊ está convidado a pedalar conosco.
Para isto, clique no País ou Cidade onde vive, preencha o formulário no topo da página ou ainda envie-nos um e-mail (veja como no final desta página) e nos ajude-nos a incluir seu país e sua cidade em nossa lista. Após fazer isso,consulte nossas Sugestões para "Organização e Promoção do Evento", para saber como começar.
Clique na imagem acima para aumentar. A imagem é uma cortesia de "The Work Less Party of British Columbia", "Artists for Peace". A imagem de uma bicicleta e um punho na marca d'água é cortesia de Terri Sue Webb.
QUEM?
Passeio Mundial dos Ciclistas Sem Roupa está sendo organizada por diferentes grupos. Estes grupos estão conectados apenas por sua determinação de estarem todos nus sobre suas bicicletas no próximo dia 12 de Junho, pedalando em celebração, em júbilo.
COMO?
Você! Sim, você está convidado não só a pedalar conosco neste 12 de Junho, mas também a nos ajudar a organizar um passeio ciclístico nudista no país de sua escolha. Tudo que você tem que fazer é preencher o formulário (no alto desta página), e nós o ajudaremos a colocar no ar uma uma página na internet com todas as informações necessárias, tais como pontos de reunião e encontro final..
Endossos Iniciais
About Asheville, Artists for Peace, Asheville Magazine, Asheville Pedal Queens, Baptists for Cheap Gas, Body Freedom Collaborative (BFC), Car Busters (a project of the World Carfree Network), Critical Mass Bicycle Rides/CriticalMass.info, A Cup of Tea, International Naturists Association (INA) / ClothesFree.com, Naked Freedom Film Festival (NFFF) May 15-16 Seattle, Nacktradeln.de (Deutsch/German), Nepal Institute, The Nude Garden Party; The Work Less Party of British Columbia
Evento citado em:
Critical Mass London, Seattle Critical Mass, Velo Vision Magazine, Bike Sport News (Deutsch/German) [direct], BikeSummer 2004 [direct], Seattle Activism, resist.ca (a project of The Resist! Collective), Federation of Canadian Naturists (FCN), SLUGS (Sun Lovers Under Gray Skies), BikeSexual.org
Blogging/Jornal/Jornal Online/Lista de Discussão:
"Be the Media!"

Independent Media Center (IMC) [Newswire article (April 1, 2004)], Seattle IMC [Newswire article (April 1, 2004)], Los Angeles IMC [Newswire article (April 5, 2004)], North Carolina IMC [direct]

Bike Forums [direct], Wald-FKK Diskussions-Forum (Deutsch/German), Stop Segregation, Overal Bloot (Dutch), Messiahbomb Journal (March 31, 2004), SynKRINGnicity (March 4, 2004), Cheef.com, Bodyfreedom, gobare.com
Radio/Televisão/webcast - Difusão via Internet
Entrevista de Virato na WOXL, 96.5FM, Asheville, 15 de Marços de 2004 as 8:15; Bicycle Paper (event listings); Nota breve em "ClothesFree TV Nudes" no "News Show", número 44, 8 de Janeiro de 2004. Going Natural (upcoming issue); Nude & Natural (N) (upcoming issue)
Brevemente mais!
Por favor nos contate enviando um e-mail para

[
Cidade, Pais
] que você gostaria de sugerir para que seja parte do passeio:
Países e Cidades Participantes:
Bélgica
Canada : Montreal, Toronto, Vancouver, & Victoria
España (Spain) (organized by Manifestación Ciclonudista for June 19th) : Barcelona, Pamplona, Zargoza
Alemanha (Germany) : Pforzheim
Holanda (Netherlands) : Apeldoorn
Nova Zelandia : Christchurch
United Kingdom : London
Estados Unidos : Asheville, Austin, Chicago, Los Angeles, Portland, São Francisco, Seattle, Vermont
Depois de se inscreve, confira para ver se mais cidades e paises uniram-se ao evento.
Sim, nos realmente iremos fazer isso.
Todos são bem vindos, ciclistas, esqueitistas,patinadores ...
Coordene o passeio na sua cidade!
INSCREVA-SE HOJE! (veja formulário acima)
O que usar? Não tema! Vá tão nu quanto você ousar - use muito ou tão pouco quanto você queira. POR FAVOR seja criativo e colorido!
Check out our resources page for various information including: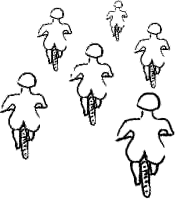 A menos que nós mudemos direção, é provável que nós terminemos a onde nós somos conduzidos.
- Provérbio chinês
Portugues translation courtesy Roberto Soares (http://www.massarandupionaturista.com.br) and Mark